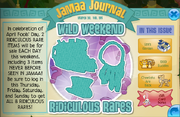 Wild Weekend is a recurring event that started on March 30, 2017. During this event, new items are sold in the Diamond Shop just for the weekend (4 days). The items sold typically follow a specific theme and are often brand new but some of them are just variations of existing items.
Ridiculous Rares
The Ridiculous Rares were sold from March 30, 2017, through April 2, 2017. Unlike the events that followed, this Wild Weekend sold each item for one day only with different items sold on each of the 4 days.
Jam Mart Clothing
Diamond Shop
Spring Phantoms
The Spring Phantoms collection was sold from April 6, 2017, through April 9, 2017.
Den Items
Clothing Items
New Gloves
The New Gloves were sold for the weekend starting on May 18, 2017.
Tail Sale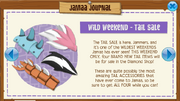 The Tail Sale occurred from June 8, 2017, through June 11, 2017.
Sunshine Outfit
The Sunshine Outfit was sold for the weekend starting on June 15, 2017.
Spike Sale
The Spike Sale occurred from June 22, 2017, through June 25, 2017.
Trivia
This event is very similar to the Spiked Sale. Both events sold Diamond Shop items for a limited time, but the Spiked Sale always had the theme of Spiked Collars.
Gallery
Ad blocker interference detected!
Wikia is a free-to-use site that makes money from advertising. We have a modified experience for viewers using ad blockers

Wikia is not accessible if you've made further modifications. Remove the custom ad blocker rule(s) and the page will load as expected.