Spooky Party
Important Information
Year round?
No
Time of year?
Around Night of the Phantoms
Available to everyone?
Yes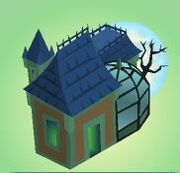 The Spooky Party is a party on Animal Jam. It sells Halloween themed items, and has a clothing store, a furniture store, and a music store where you can buy the den music "Spooky Old Bones," which is Halloween themed music.
Attractions
The party seems to take place in a Haunted House Den, flipped along the X-axis. Upon standing in the cemetary outside, your animal becomes translucent, giving a "ghostly" look. There are three floors, and at the top floor, lightning occasionally strikes. There is also a Pet Finder for Bats, its position varying with each year.
Shop
Trivia
The party only had one non-member item for sale, the Spooky Gravestone.
If you go to the top left of the haunted house where the party takes place, click on the line on the wall and a pet bat creator will open up. This was the only way to get a pet bat before the Haunted Forest Party in October 2012 opened up.

It returned on October the 9th 2014.
Gallery