Spooky Party
Important Information
Year round?
No
Time of year?
Around Night of the Phantoms
Available to everyone?
Yes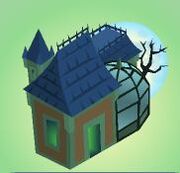 The Spooky Party is a party on Animal Jam. It sells Halloween themed items. This party has a clothing store, a furniture store, and a music store where you can buy the den music 'Spooky Old Bones', which is Halloween themed music.
Attractions
The party takes place in the Haunted House Den. The party has two shops; the clothing shop and den item shop. This is one of the two places you can get pets bats. The Spooky Party is closely related to the Haunted Forest Party. The Spooky Party has eight different rooms to explore, and thirteen items to buy.
Shop
Trivia
The party only has one non-member item for sale at the moment, the Spooky Gravestone.
The Spooky Party returned on October the 9th 2014.
A glitch occurred in which Jammers could go to the Spooky Party from May 28th to May 31st of 2015, which was during summer. However, on June 1st, 2015, this glitch was patched.
Gallery