Not to be confused with the Tiger.
For the pet counterpart, see Pet Sabertooth.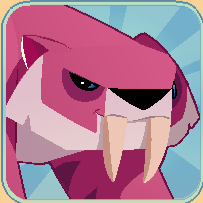 The Sabertooth is a members-only land animal that was first hinted at on March 15, 2018, as a stone statue from the Temple of the Ancients in the land of Balloosh. That statue was later revealed to be a Sabertooth. It was released on April 12, 2018.
Default Appearance
The Sabertooth appears to have a short head with two small ears, a wide upside down triangle as a nose, and large fangs hanging down from its mouth. It has a hunched back with broad shoulders and wide legs that extend down to three defined claws. The paws are large and bigger than average. Its waist is narrow and it has a short bushy tail sticking out.
Actions
| Acts | Description |
| --- | --- |
| | It sits like a normal cat, dog, or other mammal would. |
| | It stands up on its hind legs and swings it arms up its waist then at the bottom. |
| | It lays down and closes its eyes. |
| | It jumps in the air then slashes its claws in midair. |
| | It sees a butterfly and it starts fighting it, with a cloud of dust moving as they fight. Part of the butterfly's color depends on the animal's second color. |
Trivia
As an April Fools' Day joke, AJHQ initially announced this animal as the Tyrannosaurus Rex on their Instagram and Twitter.
This animal was released for Animal Jam - Play Wild! on April 4, 2018, with the same animal name.
The appearance of the Sabertooth was first teased on the spring homepage, with a purple Sabertooth wearing a yellow and pink Spring Flower Crown.
Using the round eyes on a Sabertooth causes them to appear white with a colored outline.
It is the first playable animal that is extinct, with the second being the Dire Wolf.
It is the second animal to have tusks/fangs on its mouth, the first being the Elephant.
Its size is equivalent to the Tiger.
Gallery
Artwork