Plushies 
are stuffed animals found in Animal Jam.
They are den items, collected as novelties and for enhancing the homes of Jammers. The appearance of a Plushie generally takes form of a playable animal (however, there are quite a few plushies serving as exception) coming in various colors, with visible fastened stitches. Plushies also have a "Rare" form with accessories. These are quite hard to get and are often more valuable than regular ones.  New plushies come out whenever a new animal is accessible, or during festivities. Sometimes there are different variations of a plushie (i.e. orange and green gecko plushies). Originally plushies could only come in one color. All regular sized plushies are generally non-member, however, all giant plushies are exclusive to members only (excluding the Giant
Kangaroo
Plushie and the Giant
Raccoon
Plushie).
Locations
Public claw machines in general can be found at Crystal Sands, Captain Melville's Juice Hut; Sarepia Forest, Theater Lobby; Jamaa Township, Sol Arcade; and Appondale, Conservation Museum, Tierney's Aquarium's Touch Pool. Certain parties, primarily "Animals Only Parties", include The Claw, but only as the invited animals' plushies as prizes.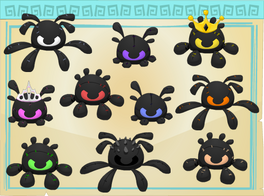 As previously mentioned, the Journey Book for Crystal Reef and Mt. Shiveer will bring forth a stuffed prize, Crystal Reef formerly had the pufferfish plushie, and Mt. Shiveer has a red panda plushie. At the Summer Carnival Shop, plushies of pets are sold, along with other marine animals plushies. Finally, giant plushies of land animals can be found in the Diamond Shop, Epic Wonders (the Black Giant Wolf Plushie), and, previously, in the Conservation Museum. These cannot be won in the claw.
List of Special Plushies
Claw Machine

| Animal | Rare Accessories | How to Obtain |
| --- | --- | --- |
| Seal | | Won in Public or Den Claw |
| Bunny | | Won in Public or Den Claw |
| Koala | | Won in Public or Den Claw |
| Tiger | | Won in Public or Den Claw |
| Monkey | | Won in Public or Den Claw |
| Wolf | | Won in Public or Den Claw |
| Panda | | Won in Public or Den Claw |
| Elephant | | Won in Public or Den Claw |
| Crocodile | | Won in Public or Den Claw |
| Rhino | | Won in Public or Den Claw |
| Horse | | Won in Public or Den Claw |
| Penguin | | Won in Public or Den Claw |
| Lion | | Won in Public or Den Claw |
| Giraffe | | Won in Public or Den Claw |
| Fox | | Won in Public or Den Claw |
| Raccoon | | Won in Public or Den Claw |
| Deer | | Won in Public or Den Claw |
| Phantom | | Den Claw Only |
| Eagles | | Won in Public or Den Claw |
| Cheetah | | Won in Public or Den Claw |
| Kangaroo | | Won in Public or Den Claw |
| Arctic Wolf | | Won in Public or Den Claw |
| Snow Leopard | | Won in Public or Den Claw |

Jam Mart Furniture

| Animal | Colors | How to Obtain |
| --- | --- | --- |
| Cami's Frog | | Trade Only |

Code

| Animal |             Color | Code | How to Obtain |
| --- | --- | --- | --- |
| Green Gecko | | Expired | Trade Only |
Tierney's Aquarium

| Animal | Color | How To Obtain |
| --- | --- | --- |
| Hermit Crab | | Complete Touch Pool Log |
| Ray | | Complete Touch Pool Log |
| Urchin | | Complete Touch Pool Log |
| Horseshoe Crab | | Complete Touch Pool Log |
| Sea Slug | | Complete Touch Pool Log |
| Sea Star | | Complete Touch Pool Log |

Journey Book

| Animal | Color | How to Obtain |
| --- | --- | --- |
| Pufferfish | | Complete Crystal Reef Page |
| Red Panda | | Complete Mt. Shiveer Page |
Conservation Museum 
No Longer Available



| Animal | Color | How to Obtain |
| --- | --- | --- |
| Giant Fox | | Trade or Forgotten Desert |
| Giant Giraffe | | Trade or Forgotten Desert |
| Giant Penguin | | Trade or Forgotten Desert |
| Giant Horse | | Trade or Forgotten Desert |
| Giant Crocodile | | Trade or Forgotten Desert |
| Giant Rhino | | Trade or Forgotten Desert |
| Giant Panda | | Trade or Forgotten Desert |
| Giant Bunny | | Trade or Forgotten Desert |
| Giant Elephant | | Trade or Forgotten Desert |
| Giant Koala | | Trade or Forgotten Desert |
| Giant Monkey | | Trade or Forgotten Desert |
| Giant Seal | | Trade or Forgotten Desert |
| Giant Tiger | | Trade or Forgotten Desert |
| Giant Raccoon | | Trade or Forgotten Desert |
| Giant Wolf | | Trade or Forgotten Desert |

Summer Carnival Shop
Note: All of these are still available, but only during the Summer Carnival
| Animal | Color | Cost |
| --- | --- | --- |
| Dolphin | | 1,500 Tickets |
| Giant Dolphin | | 3,000 Tickets |
| Shark | | 1,500 Tickets |
| Giant Shark | | 3,000 Tickets |
| Turtle | | 1,500 Tickets |
| Giant Turtle | | 3,000 Tickets |
| Octopus | | 1,500 Tickets |
| Giant Octopus | | 3,000 Tickets |
| Rabbit | | 1,500 Tickets |
| Large Rabbit | | 3,000 Tickets |
| Snake | | 1,500 Tickets |
| Large Snake | | 3,000 Tickets |
| Hamster | | 1,500 Tickets |
| Large Hamster | | 3,000 Tickets |
| Duckie | | 1,500 Tickets |
| Large Duckie | | 3,000 Tickets |
| Frog | | 1,500 Tickets |
| Large Frog | | 3,000 Tickets |
| Butterfly | | 1,500 Tickets |
| Large Butterfly | | 3,000 Tickets |
| Kitty | | 1,500 Tickets |
| Large Kitty | | 3,000 Tickets |
| Puppy | | 1,500 Tickets |
| Large Puppy | | 3,000 Tickets |
| Owl | | 1,500 Tickets |
| Giant Owl | | 3,000 Tickets |
| Fox | | 1,500 Tickets |
| Giant Fox | | 3,000 Tickets |
| Monkey | | 1,500 Tickets |
| Giant Monkey | | 3,000 Tickets |
| Spider | | 1,500 Tickets |
| Giant Spider | | 3,000 Tickets |
| All the pets | Stars and Stripes | |

Epic Wonders

| Animal | Color | Cost |
| --- | --- | --- |
| Black Giant Wolf | | 2,000 Gems |

Fourth of July Summer Carnival Shop
Note that the regular pet plushies cannot  be bought at this time.

| Animal | Color | Cost |
| --- | --- | --- |
| Freedom Hamster | | 1,000 Tickets |
| Giant Freedom Hamster | | 5,000 Tickets |
| Freedom Duckie | | 1,000 Tickets |
| Giant Freedom Duckie | | 5,000 Tickets |
| Freedom Frog | | 1,000 Tickets |
| Giant Freedom Frog | | 5,000 Tickets |
| Freedom Butterfly | | 1,000 Tickets |
| Giant Freedom Butterfly | | 5,000 Tickets |
| Freedom Kitty | | 1,000 Tickets |
| Giant Freedom Kitty | | 5,000 Tickets |
| Freedom Puppy | | 1,000 Tickets |
| Giant Freedom Puppy | | 5,000 Tickets |
                                              Epic Plushies
| Animal | Color | Cost |
| --- | --- | --- |
| Epic Bunny Plushie | | Code with Sidekix Plushie (real world item) |
| Epic Fox Plushie | | Code with Sidekix Plushie (real world item) |
| Epic Crocodile Plushie | | Code with Sidekix Plushie (real world item) |
| Epic Panda Plushie | | Code with Sidekix Plushie (real world item) |
| Epic Wolf Plushie | | Code with Sidekix Plushie (real world item) |
| Epic Tiger Plushie | | Code with Sidekix Plushie (real world item) |
| Epic Giraffe Plushie | | Code with Sidekix Plushie (real world item) |
| Epic Penguin Plushie | | Code with Sidekix Plushie (real world item) |
Gallery