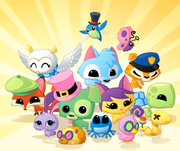 Pets are smaller versions of Animals that accompany the player's current animal and can be purchased throughout Jamaa. They can be bought in Claws N' Paws, Flippers N' Fins, the Diamond Shop, the Pets-Only Party, or through the Pets section of the Change Your Look menu. Diamond shop pets cost 3 Diamonds each, while most (besides promotional) pets cost 400 Gems. Pets were first announced on June 9, 2011, and were introduced on June 23, 2011.
Choose a Pet
This menu is very similar to the menu the player sees when making a new animal, except pets are displayed instead of playable animals. It can be accessed by clicking on the pet adoption icons scattered around the world and certain parties. The menu can also be found by clicking on the Pets button in the Change Your Look panel and then clicking on the blue butterfly icon in an empty slot. All of the pets that can be currently purchased can be found in this menu. You can also set the pet by pressing the cage icon below on the bottom left. It will ask you if you are sure you want to free it or not.
Pet Customization
When a pet is being purchased, it can be customized with one of twenty primary colors, one of twenty secondary colors, one of six eye types, and three different body modifications that each have four possible choices. After the pet's base appearance has been selected, the player can choose a two-part name for the pet. The final result of these choices is permanent and the customization cannot be changed once the pet is purchased. After a pet has been customized and purchased, they will receive an Adoption Certificate with unique attributes for favorite food and toy, but these attributes cannot be customized.
The list of pet names
First names
Last names

Air
Angry
Autumn
Blue
Bouncy
Bright
Bubble
Bumble
Burpy
Chewy
Circle
Cloudy
Cold
Comfy
Crunchy
Crusty
Dainty
Dapper
Dew
Dizzy
Dusty
Earth
Enigma
Fall
Fancy
Fire
Fizzy
Flutter
Flying
Frosty
Fuzzy
Ghost
Giant
Glamour
Glimmer
Go
Gold
Good
Green
Grumpy
Gummy
Hazy
Honey
Hyper
Icy
Jelly
Joker
Joyful
Jumble
Kitty
Macro
Mega
Metal
Micro
Mirror
Miss
Mister
Misty
Mossy
Mumble
Mushy
Musical
Ninja
Noble
Noisy
Ocean
Odd
Orange
Patch
Paw
Pirate
Pointy
Pooky
Puppy
Purple
Quick
Red
River
Robo
Rolly
Sandy
Sea
Shady
Sharp
Shimmer
Silver
Sir
Skippy
Sloppy
Snow
Snowy
Speedy
Spring
Square
Squishy
Starry
Sticky
Stop
Summer
Sunny
Super
Tacky
Tater
Toasty
Toy
Tricky
Uber
Ultra
Warm
Water
Wheezy
Whisper
Wind
Window
Winter
Woolly
Yellow
Zippy

apple
armadillo
band
banner
bat
bear
bee
berry
bird
blush
book
boy
buddy
bug
bunny
cake
card
cat
chaser
cheetah
chip
coat
crystal
deer
diver
dog
drop
dude
eagle
egg
elephant
ferret
fish
fly
flyer
fox
frog
froggy
frost
gal
gecko
genius
giraffe
girl
goat
guy
Hamster
hill
hippo
hopper
horse
imus
jinx
joey
kat
kit
lad
lady
lemon
lemur
leopard
lime
lion
llama
mantis
mark
max
monkey
mouse
ninja
noceros
note
onius
orange
owl
panda
paw
peach
pebble
penguin
phantom
piglet
pile
pirate
plum
pony
potomus
pup
puppy
raccoon
rhino
robot
roo
salot
saurus
scale
shell
skunk
sky
snake
song
spider
splinter
sprinkles
square
squirrel
stick
tack
tiger
titan
toad
toast
ton
tot
tree
tron
turkey
turtle
wagon
way
web
whistle
wings
wisp
wolf
Promotional Pets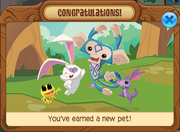 Some pets can be received as a "Promo Gift" alongside other purchases such as retail Membership gift cards and Adopt A Pet Jazwares Toys. The Monthly Member Gifts would also provide exclusive pets, but that feature has since been discontinued. The pets that were received from membership promotions can be recreated at the standard price of 400 Gems; however, the Adopt a Pet promotions can be created only once (ex. Pet Firefly).
Pet Shops
Pet Shop
Description
Claws N' Paws
Claws N' Paws is a shop where most of the main land Pets can be purchased along with common household items for their pets. It is found in Appondale inside the large savanna tree and is accessible through the world map.
Flippers N' Fins
Flippers N' Fins is a shop where the aquatic pets can be purchased. It is located in Crystal Reef. Unlike its land counterpart Claws N' Paws, Flippers N' Fins does not sell any den items related to pets.
Diamond Shop
Each pet in the Diamond Shop costs 3 Diamonds, and if the player frees a pet, they will not receive any Gems or Diamonds in return. If the player has bought a pet with Diamonds, they will be given the accessibility to buy the same pet again with Gems.
Pet Games
Pet games are similar to other mini-games in Jamaa, except that they require players to have the corresponding pet following them. When playing, the player's pet will actually appear in the mini-game and the player will get to control them. The current pet games are Ducky Dash for a pet ducky, Disc Toss for a pet puppy, and Sssssnake for a pet snake.
Pet Effects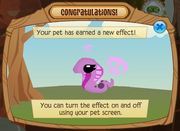 Pet effects are special rewards that can only be unlocked by playing the pet mini-games. Each pet effect causes small colorful shapes to appear around the pet; puppies have bones as their effect, duckies have eggs, and snakes have skulls. To obtain these effects, the player must collect 100 golden eggs, 100 golden discs, or 100 golden mice depending on the pet game. These can be collected by the individual pets gradually while playing the pet games and it is not necessary to collect them all at once.
List of Pets
Available
These pets can currently be created for the right price.
Formerly Available
These pets currently cannot be created by Jammers that have not yet created one already.
Click Expand to view
Pets
Type?
Members-Only?
Price?
Where?
Golden Bunny
Land
No
Pet Stop Pals Jazwares Toys
Promo Gift
Honeybee
Flying
No
400
(National Honeybee Day)
Choose a Pet
Goat
Land
Yes
3
Choose a Pet
Diamond Shop
Piglet
Land
Yes
3
Choose a Pet
Diamond Shop
Turkey
Land
Yes
3
(Feast of Thanks)
Choose a Pet
Diamond Shop
Reindeer
Land
Yes
400
(Jamaalidays)
Choose a Pet
Jamaaliday Jam
Jamaa Township
Tiger
Land
Yes
3
Choose a Pet
Diamond Shop
Panda
Land
Yes
3
Choose a Pet
Diamond Shop
Elephant
Land
Yes
3
Choose a Pet
Diamond Shop
Rhino
Land
Yes
3
Choose a Pet
Diamond Shop
Monkey
Land
Yes
3
Choose a Pet
Diamond Shop
Lemur
Land
Yes
3
Choose a Pet
Diamond Shop
Raccoon
Land
Yes
3
Choose a Pet
Diamond Shop
Snow Leopard
Land
Yes
Retail Membership Gift Card
Promo Gift
Meerkat
Land
Yes
Retail Membership Gift Card
Promo Gift
Ferret
Land
Yes
Retail Membership Gift Card
Promo Gift
Arctic Wolf
Land
Yes
Retail Membership Gift Card
Monthly Member Gifts
Gecko
Land
Yes
3
Choose a Pet
Diamond Shop
Rooster
Land
No
3
Diamond Shop
Hippo
Land and

Ocean

Yes
Retail Membership Gift Card
Promo Gift
Trivia
While the original, random pet creation was still being used, players that created a pet, which already came with a rare item, would be rewarded with the "One of a Kind!" achievement medallion. This achievement was removed when the achievements list was relocated to the Change Your Look menu.
In June 2015, the "Pet Finder" menu that had been previously used to select a pet has been replaced with the "Choose an Animal" menu, which was later renamed to "Choose a Pet".
On April 13, 2017 pet eggs were released. This state was only temporary, so in three days the egg could hatch into a Pet Falcon, Pet Chick, Pet Crocodile, on May 14, 2017, a Pet Platypus, and on June 22, 2017, a Pet Echidna.
Flying Animals (such as Eagles, Falcons, Owls, and Toucans) can only use flying pets (ex: Hummingbird).
Land animals can use flying and land pets as their pets.
Pet Turtles, Pet Hippos, Pet Penguins, Pet Seals, Pet Otters, Pet Polar Bears, and Pet Platypuses are currently the only pets that can be used both on land and underwater.
Pet Hamsters, Pet Seahorses, Pet Honeybees, Pet Roosters, and Pet Giraffes are currently the only non-member pets so far besides Pet Joeys and promotional pets.
When a pet wears a certain item, it can sometimes allow the pet to have a special "play" move.
There is not a pet counterpart for Wolves.
Although Pet Sugar Gliders "fly", they cannot be used with flying animals.
Pets can be released (recycled), but gems are not returned as with items.
The Pet Reindeer is considered the Deer counterpart.
So far, there are only two parties that can only be accessed if the player has a pet. The first and older one being the Pets Only Party where special features and pet items can be found and bought. The second, more recent party is the Play-As-Your-Pet Party, where the player can play as their pet.
The pet customization screen allows for 153,600 unique combinations (20 primary colors × 20 secondary colors × 6 eye options × (4×4×4) body options) for each pet. If the pet is further customized using Pet Stop, there are a staggering 34,560,000 unique combinations (9 primary accessories (4 rare + 4 regular + 1 blank) × 5 secondary accessories (4 regular + 1 blank) × 5 tertiary accessories (4 regular + 1 blank)) for every single pet.
When five of the Toy Pet House codes are used, an unnamed pet will be given as a reward.
There is a glitch for some accounts where all of the pets after the Pet Snake fail to display in the Choose a Pet menu. The pets that end up missing are the Pet Hamster, Pet Butterfly, Pet Puppy, Pet Ducky, Pet Frog, and Pet Kitty, however, these pets can still be purchased by visiting the appropriate adoption icons around Jamaa. The precise cause of this glitch is still unknown as it only affects certain Jammers.
After pet trading was introduced, there was a glitch that allowed Jammers to recreate new versions of the pets they had been traded, even if they had never obtained the pet originally. This glitch has since been fixed.
On August 18, 2016, pet Trading was introduced.
On September 16, 2016, Adoption Certificates were introduced. Pets purchased before then were also given an Adoption Certificate, but their adoption date was listed as "???" because it was unrecorded.
There have been several glitches over the years that caused Diamond Shop pets to cost only 400 Gems for the first purchase instead of the listed price in Diamonds.
Pets could not be placed in Dens until March 1, 2012, when an update changed this.
Gallery
Others
Ad blocker interference detected!
Wikia is a free-to-use site that makes money from advertising. We have a modified experience for viewers using ad blockers

Wikia is not accessible if you've made further modifications. Remove the custom ad blocker rule(s) and the page will load as expected.