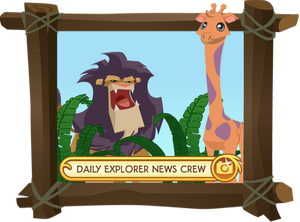 The News Crew is a contest where Jammers write short news stories about topics in Jamaa. It was first introduced for The Daily Explorer on July 21, 2012.
Submitting an Assignment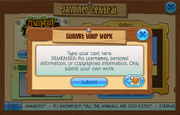 News Crews submissions must be uploaded to AJHQ through Jammer Central, the community message board located in the center of Jamaa Township. According to The Daily Explorer, these submissions must be less than 250 words, and they must start with "News Crew - Title of Contest" in order for AJHQ to properly sort the entries. Jammers must also include a relevant snapshot with their report by clicking on the attachment button, which looks like a "+" sign next to a drawing of a cat, and selecting a screenshot image that has already been saved to their computer.
Topics
The topic of each News Crew assignment varies considerably, but they all relate to something in Jamaa. The following are some of the more recent topics:
Take a vacation with your pet anywhere in Jamaa
How do Alphas celebrate the new year?
Where do Deer explore when leaving Jamaa?
History Of Jamaalidays
How to take care of your Pet Llama
Day in the life of a Toucan
Teach a New Jammer about the Jamaalidays
Topics from 2013
Topics from 2012
Where have the Alphas been
Being thankful
Being a good Jamaa citizen
Golden lion tamarins
Caring for your Pet Turtle
Fox facts
The Summer Carnival
Rewards
Jammers that win this contest will have their article featured on The Daily Explorer and they will receive a Diamond News Crew Plaque from AJHQ in a Jam-A-Gram. Winners also gain access to a special News Crew Badge, which they can optionally use for all Jammers to see.
Trivia
Originally, the News Crew contest only rewarded the badge.
Although not typical, some assignments (such as the one for big cats) had more than one winner.
According to AJHQ: "A non-member cannot customize their badge. The camera badge will remain on the account but a Jammer will not be able to use it unless they activate a membership."
Gallery