Mira is the mother of Jamaa according to Liza, the panda shaman. Her feathers have a chroma of blue and green, and she is a Blue Heron. Traces of her are found at Jamaa Township, a statue of her called Mira's Statue, as well as the firepit at Sarepia Forest .
Mira
Name
Mira
Alias
"Mother of Jamaa"
Gender
Female
Species
Blue Heron
Partner
Zios
Mira was involved in many parts of the history and creation of Jamaa, especially the rise of antiheroes. She was also the one who recruited the Alphas to defend Jamaa during the phantom attack.
She was created by Zios when he became lonely and felt the need to have a partner by his side. Together they created all of Jamaa and the animals in it. but then the phantoms appeared by Mira's tears
History
"And so it was that the Sky father was named Zios. He created many stars and planets and set them in motion. But after eons of creation, he became lonely. So he created the Sky Mother, a blue heron and named her Mira.
Mira was beautiful and kind and they were very happy together. She loved Zios deeply and often told him how talented he was, encouraging him to create. Together, Zios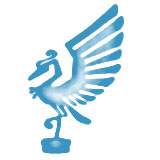 and Mira created their masterpiece: a lush land filled with oceans, mountains, meadows, and all kinds of plants and animals. They named this special world Jamaa, and for hundreds of years, the world and its animals were at peace.
But today, all is not well in Jamaa. A mysterious dark force has crept into the land, stealing away animals and ruining the beauty of Jamaa. Only you can help save Jamma and restore the world to its glory. Please help, for you are Jamaa`s only hope.
Mother, was heartbroken after losing her companion spirit, Zios, the Sky father. Her feelings of sadness crept over her. Mira`s feeling soon ruled over her and she vanished. Rumors say that she is still alive, only to be hiding in fear and sadness.

-Creation myth of Jamaa
Trivia
Mira is still be alive, just gone, as hinted during the Jamaalidays 2010. During this time it was noted that Mira was in retirement and now spends her time making new items for her beloved Jammers.
Even though she is very popular in AJ, her game, Mira Says, is not popular due to it not earning many gems.
In the Chamber of Knowledge, there is a glitch where the game booth is not there [Yet you can still play]!
There is a Mira coloring page that is printable.

Could Mira still be alive?

Added by

DeeBradleyBakerFan

Mira is the only person Greely respects, it explains why Greely is seperated from the other shamans [He "distains" the other shamans] and next to the the game Mira Says.
If four or more people dance and/or hop around the fire pit in Sarepia Forest, a living fire of Mira appears.
It is possible that the statue at Jamaa township is Mira herself, under a spell.
During Halloween, Mira was replaced with a red tall phantom statue in her original statue place. She  returned about when Halloween time is over.
During the month of December for the Jamaalidays, the statue of Mira is turned into ice and is rock-solid.
Gallery