HELLO  <insert name here>
WELCOME MESSAGE CHANGES EVERY 2 WEEKS (Tell me if I forgot!)

My life on the AJ WIKI:
/Sees 5 Notifications
DARN IT! What do they want with me now?
If you would like any Cereal, feel free to ask. :>
Edit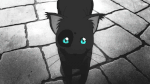 I will like you if you feed me cat food .. so please do or else.

See archived talk page
Give Kudos to this message
You've given this message Kudos!
See who gave Kudos to this message