Koalas
are one of the first nonmember animals. They have come back from their adventures with Cosmo the Koala Shaman, A

llowing Jammers to purchase them again. They are small in stature, but are a little bit bigger than
bunnies
. Cosmo the koala Alpha has his own adventure, currently for members only, at the
Adventures Beta
. The koala is one of the many animals that has a alpha.
Moves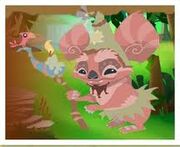 Dance: Waves arms right and left and then jumps, imatitating the hula quickly.
Hop: sits then springs up. It is almost as high as a bunny's hop.
Play: Does a somersault, shakes ears and scratches neck.
Sleep: Sleeps facing sideways
Sit: Sits and leans head on one side.