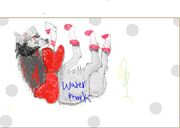 Koalas were one of the first animals. They were also one of the few traveling animals. They left April 11th 2013, and came back in the late summer/ fall of 2013. They were the second animal to travel. They have come back from their adventures with Cosmo the Koala Shaman, allowing Jammers to purchase them again. When they returned, the newest land, Kimbara Outback appeared. Cosmo the koala Alpha has his own adventure, now for all jammers, at the Adventures Beta. The koala is one of the many animals that has a alpha. Its special plushies include a superhero mask, head flower, and mohawk added on to the original plushie.
Moves
Dance: Waves arms right and left and then jumps, imitating the hula quickly.
Hop: Sits then springs up. It is almost as high as a bunny's hop.
Play: Does a somersault, shakes ears, and scratches neck.
Sleep: Sleeps facing sideways
Sit: Sits and leans head on one side.