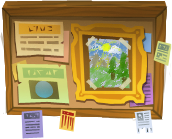 Jammer Central is the message board in Jamaa Township. This is where Jammers can submit artwork, view artwork that has been featured, watch a featured video, and be informed of the latest updates on the mobile game Play Wild.
Gallery
The gallery is the main feature on the Jammer Central board. When clicked, it brings up the current most popular Masterpiece artwork. There are left and right arrows beside each masterpiece to view other artwork submissions. Clicking the right arrow will lead to the next most popular artwork, just behind the currently viewed masterpiece. Clicking the left arrow will lead to the random assortment of recently uploaded artworks. There are approximately 66 of the most popular artworks and then 18 randomly selected artworks.
Play Wild
The Play Wild section has a "See What's New" button that can be clicked to open a popup panel. The panel includes a short summary of the most recent update to the mobile game on the left with small images of the updates on the right and arrows to cycle through them. The bottom left of the panel has a video clip that can be clicked to watch one of the latest 3D short films produced by AJHQ. The bottom right of the panel includes a small advertisement to remind Jammers how to play the mobile game.
Short Video
The bottom left corner of the Jammer Central board features the latest 3D short video produced by AJHQ. It can be clicked to play through the entire clip. The video clip typically coincides with the release of a new animal avatar.
Submissions
The bottom right of the panel has the submission button that can be clicked to submit content to AJHQ. This is used for certain contest submissions such as the News Crew, the Jammer Snaps, and the Look of the Week.
Trivia
Gallery
Ad blocker interference detected!
Wikia is a free-to-use site that makes money from advertising. We have a modified experience for viewers using ad blockers

Wikia is not accessible if you've made further modifications. Remove the custom ad blocker rule(s) and the page will load as expected.