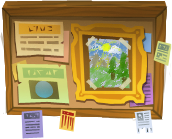 Jammer Central
is the message board in
Jamaa Township
. This is where Jammers can submit artwork, view artwork that has been featured, watch a featured video, be informed of the latest updates on
Play Wild
, view featured howls, and submit a howl.
Trivia
Jammer Central used to have a feature called the "Activities Calendar," where Jammers would get a preview of what is to come to Jamaa. Normally, it only displays events that have already happened or have been mentioned to be coming soon on the Jamaa Journal. This was replaced with the Play Wild updates feature on January 7, 2016.
If a Jammer's howl or artwork is featured here, they will receive a special plaque.
Gallery
Ad blocker interference detected!
Wikia is a free-to-use site that makes money from advertising. We have a modified experience for viewers using ad blockers

Wikia is not accessible if you've made further modifications. Remove the custom ad blocker rule(s) and the page will load as expected.