Haunted Forest Party
Talk

0
1,562pages on
this wiki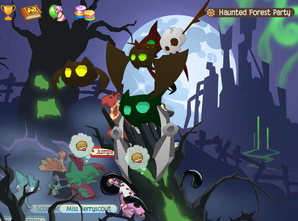 The Haunted Forest Party is out during the Night Of The Phantoms celebration, or, in other words, Halloween. It's full of haunted stuff like dead trees, bats, fog, ghosts, and scary music. Members could have got pet bats here in 2012, but not in 2013. Members and non members can buy scary clothes and furniture. The party ends at the end of October, near Halloween. It also has the most expensive item for a party on record: the Medusa Mask, at 1500 gems. The mask reappears at the New Years Party. There is an April 2012 version called the Spooky Party.
There is also an attraction of turning into a ghost. Simply step into the fog, wait for a little while, and you will soon become ghost-like, being transparent.                                  
Items in the Haunted Forest Shop        
Music:
Spooky Old Bones, 100 Gems, Members
Items:
Scary Eyes, 350 Gems, Members
Scary Fence, 150 Gems, Members
Spooky Lights, 100 Gems, Non~Members
Patch of Fog, 300 Gems, Members
Ground Spider Web, 150 Gems, Members
Ceiling Spider Web, 150 Gems, Members
Wardrobe:
Medusa Mask, 1,500 Gems, Members
Witch Hat, 300 Gems, Members
Wizard Hat, 250 Gems, Members
Werewolf Mask, 400 Gems, Members
Yeti Mask, 250 Gems, Members
Demon Mask, 200 Gems, Members
Note: Items change every year so do not count on these items being here next year.