The Glove is a non-member paw item that is very popular among both members and non-members. You can currently win them from Hard Mode of the Adventures. They also appear as prizes in Sky High and in The Claw at the Trading Party. There are eight different colors of gloves.
Trivia
The eight released colors of Gloves are black, white, bluanimaljam.wikia.comd, and purple.
Glove colors are reversed on Eagles
One of the eight colors of Gloves is very similar to the Silver Glove. This is why the Silver Glove is often used for scamming. The only difference between the two gloves is that the Silver Glove is a slightly lighter shade of grey.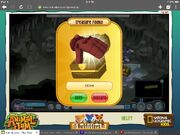 Gallery
Mummy Gloves
Mummy Gloves were Monthly Member Gifts in May 2013. They come in few colors.