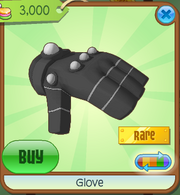 The Glove is a Non-member land Clothing Item that is worn on the leg. It was formerly sold at Jam Mart Clothing and released during the Beta times.
Status
| | |
| --- | --- |
| Type? | Clothing item |
| Has a Rare version been released? | Yes |
| Released during Beta Times? | Yes |
| Non-member? | Yes |
| Are there other released variations of the item? | Yes |
| Available for land or ocean? | Land |
| Price? | Bought at Jam Mart Clothing for 3,000 Gems |
Appearance
The Glove has a cuff at the wrist and "bumps" on each knuckle. The Glove depicts four fingers. This item comes in eight different varieties.
Gallery
Trivia
The Glove's former price (before released on Rare Item Monday) was 45 Gems.
This item was released four times, and twice as a Rare Monday item. This is slightly unusual, as the majority of Rares and Betas come out only once or twice.
This item was once sold in Shiveer Shoppe, but only for two days.
The white variety of this item seems to be very similar to the Silver Glove.
This item is/was obtainible in The Claw at the Trading Party .
The Glove was formerly non-rare (as in it did not have a rare symbol). After the first Rare Item Monday, though, all gloves in the game automatically had the rare symbol on them, even if they were not bought from Rare Item Monday.
The Glove is now one of the few items that is rare without having a non-rare item to go along with it.