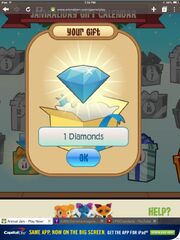 Diamonds
are the most recent
currency
in Animal Jam. Members are able to receive them every Tuesday, while, all Jammetrs have a chance of winning some Diamonds in the 
Daily Spin
. (You will get three diamonds if you are currently on times three) You can also receive larger amount of diamonds such as ten or twenty-five on certain gift cards. Diamonds can only be used in the
Diamond Shop
 to purchase goodies. One diamond is equivalent to one thousand
Gems
. Members can use Diamonds to purchase past Monthly Member Gifts, along with seasonal pets, and gift card animals, there are also new animals that cannot be awarded from a gift card that are sold there. Non-Members can purchase Gem bundles, a Rain Cloud, a Snow Cloud,
Swoopy Eagle
and a Giant Kangaroo Plushie. There have been many rumors that if an animal colors their nametag, fur, eyes, pattern, and underbelly white, while hopping on the Diamond tiles on the floor, with no clothing on, that those Jammers will earn diamonds. However, AJHQ has confirmed that all diamond rumors to be false, as said in
this
 Daily Explorer article.  
Gallery