Dens
Talk

0
1,359pages on
this wiki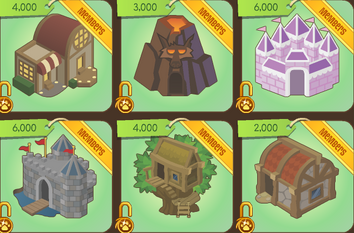 The
Den
is the house for your animal in Animal Jam. The "Small House"  and "Sunken Ship" dens are the only dens available to non-members, while members can access many other dens exclusive to them. Some dens go on sale for a limited period of time, such as the
Haunted House
and Water Park den, which ended after the Night of the Phantoms and after Summer. The newest den is the huge Crystal Palace den, which is available in the Diamond shop for 7 diamonds.
Dens generally cost between 2,000 and 7,500 gems. There are two underwater dens at the moment, the "Sunken Ship" den and the "Lost Ruins" den. Dens are available in the Den Shop in Coral Canyons, while the underwater dens are available in Deep Blue; these can also be accessed by the player simply by clicking the "Switch Den" icon when editing their Den. The only exceptions to this would be the Cosmo's Den, the Sol Arcade Den and the Crystal palace.
The maximum number of items in one den is 300 items for all Jammers. There used to be a den for Jammers during the beta phase, which included 3 floors, but it was soon removed after beta testing was over. It was thought that the den was the Small House den, but in the beta testing phase. Members can have up to 16 dens. You cannot delete both the "Small House" and "Sunken Ship" dens because, as non-member, these are the only dens available to you. The Fantasy Castle is the most expensive den at a cost of 7,500 gems. Also, if you purchase a King of the Jungle membership card, you have the option to choose a free castle den or a National Geogrpahic Kids magazine subscription. It is impossible for a Jammer to have no den. Most dens are seasonal such as the Gingerbread House and the Haunted House. Jammers are able to decorate their dens any way that they would like. 
During a certain time of the year, sometimes a den for that particular season is not for sale. For Winter, the Snow Fort Den. For Summer, The Water Park den. For October, The Scary House den.
There are also miniature versions of "real" dens available for pets, such as the Pet Fantasy Castle Den, the Pet Castle Den, and the Pet Haunted House Den. One of the most popular dens is the Princess den, which can be brought from Epic Wonders.
Trivia
One of the most popular dens is the Princess Den.
The Castle den is used as the layout for the Trading Party, except with snow instead of the regular grass.
Gallery