Crystal Sands is a beach-themed location in Jamaa. It has water slides and other water park themed attractions.
Appearance
Crystal Sands originally had several rocks and a cave with the face of a tiger (many believed this was Sir Gilbert, for he was the Alpha of the land) until it was remodeled, making into a beach and water park type attraction. The Pet Wash is there, along with Captain Melville's Juice Hut, where you can make smoothies, get Plushies, and perform on the stage. You can also access Crystal Reef at the docks if you have an ocean animal. An entry to Kani Cove is in Tierney's Aquarium, and up north is the cavern leading to Mt. Shiveer. Lastly, between the right water slide and stone path is Canyons Pathway, which is an unmapped mini land, and leads to Coral Canyons. It is called the Beach of Jamaa.
Attractions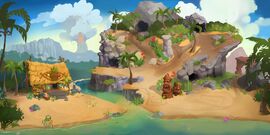 Whether you come to splash in the tide pools, bask in the sun, chill with a smoothie, or chat with your buddies, Crystal Sands is an ideal location for summer fun in Jamaa!
Waterslides - Twist and turn to emerge into the water with a great splash! Its purpose is similar to the ice slide and Sarepia slide and serves as a great shortcut.
Sea - It gives a remarkable view above Bahari Bay and Crystal Reef, and is the main water pool. It is one of the major features that was kept the same throughout updates.
Captain Melville's Juice Hut - Outside it appears as a small hut with a straw roof. The sign is an image of a pineapple with lemons, inside out the walls are painted green with a theme of blue and yellow to compliment the color. It makes a great social gathering: it has a dance floor and a platform with a microphone and a guitar plugged into an amp ready for use! Including a classic jukebox, The Claw, and a Smoothie Machine on the counter with fruits in containers skirting along. A few cushions are set out to relax, and noticeable decorations are ceramic hanging baskets holding fruits and the hanging spherical lanterns. Before the big update, it was much bigger than it is now.
Tierney's Aquarium - Tierney's Aquarium is named after Doctor Tierney Thys, a marine biologist. The walls are mostly glass, behind which you can see fish and other marine animals swimming around. There is also the Touch Pool, a game where you touch animals in the ocean to earn plushies and Gems. The entrance to Kani Cove is also located here. The equipment Satellite Archival Tag, Waveglider, Scuba Propeller and Scuba Gear shows a video on how to use them in the oceans and Tierney shows examples of situations using it when clicked on. Climbing up the staircase is Tierney's Theater, where a collection of videos is about Tierney answering Jammer's questions. An aquatic version of Sarepia's Theater with towels to sit on, with the concept of Brady Barr's lab. Another thing in common is the Aquarium can be seen on the map and can be teleported to immediately.
Games
Games
Description
Overflow
On how to play, click the pieces to rotate them and lead the path to the sand castle. Longer pathways give more Gems as well.
Double Up
Click on the holes to reveal the animals. Pair all the animals before the timer stops to earn bonus Gems.
Smoothie Machine
Choose between flavors: orange, strawberry, grape, and banana. Fill the cup with the fruit you decided on, and do not catch any other falling fruit! Then enjoy your glass of your berry delight with a tropical parasol pick.
The Claw
For five Gems earn a possible rare plushie, or an endearing companion! Who knows what type of plushie you would receive in a box? Note: you may not receive a plushie at all, but keep tryin!
Pet Wash
Press the water tap, then select a shampoo (Pink, green, blue, yellow). Next select green, yellow, or red and click the handle. Afterwards wait and choose a pink or blue towel. Your pet would now appear sparkly. Members only.
Touch Pool
Run your mouse over marine animals to earn plushies and Gems. Can you Catch 'em all?
Journey Book
Most of these organisms belong to Spanish speaking countries such as parts of the Caribbean islands and South America, or to the shores of the oceans.
Key:
Standing = Always there
Moving = it will move around, so be patient
Click Expand to view
Species
Location
Cacao Tree
To the left of Captain Melville's Juice Hut.

(standing)

Centipede
Climbing on the roof of the Pet Wash.

(moving)

Macaw
On the roof of Tierney's Aquarium, walking on the rope.

(moving)

Basilisk Lizard
The western waterfall at the left of the Mt. Shiveer pathway, on the rocks and running across to the bushes near the Pet Wash.

(moving)

Flamingo
Bathing next to the Bahari Bay dock to the left. There should be one rock formed outside of the water.

(standing)

Tapir
Next to the entrance to Mt. Shiveer, at the left rocks it appears from under.

(moving)

Green Iguana
On the roof of Captain Melville's Juice Hut.

(moving)

Tide Pool
The far Eastwest corner of the area, or the far right of the sea, below Tierney's Aquarium.

(standing)

Sand Dollar
Between the left slides, where they split.

(standing)

Crab
Crawling around on the shore in front of Tierney's Aquarium every now and then.

(moving)

Sugarcane
Left of the cacao tree, near The Lost Temple of Zios entry.

(standing)
Trivia
Not only do they have similar names, but Crystal Sands and Crystal Reef are also the only areas of their type (land and ocean) to not have any shops.
Crystal Sands is the only land to have ever been rebuilt.
The old Crystal Sands was not a water park, but a beautiful, lush jungle.
Tierney's Aquarium was added after Crystal Sands was rebuilt.
In the old Crystal Sands, it was shown that Sir Gilbert's cave was there.
Crystal Sands is one of the 4 original lands.
There are technically 4 water slides in Crystal Sands. The right-most one is split up into 2.
Gallery
Ad blocker interference detected!
Wikia is a free-to-use site that makes money from advertising. We have a modified experience for viewers using ad blockers

Wikia is not accessible if you've made further modifications. Remove the custom ad blocker rule(s) and the page will load as expected.