Coral Canyons is a gorge-like home full of red-dust and red-stone, it seems to be based on the Grand Canyon. It was released on September the 10th 2010, as a celebration after the BETA days ended. Middle top is the bridge to Sarepia Forest and bottom right is the entrance to Canyons Pathway. Greely's guardian land is in fact Coral Canyons, this is proven since the Greely Trading card's background was Coral Canyons. If Jamaa Township is full, Jammers will be transferred to Coral Canyons only if it isn't full either.   
Attractions
Coral Canyon Bridge - A bridge in which Coral Canyons is both famous and infamous for. If four or more Jammers hop on it, the bridge will start to crack, and eagles would fly out to flee the falling boulders. The myths and sayings "If everyone jumps on the bridge, it will break!" are not necessarily true. The assumptions after breaking the bridge is the group would arrive at an enclosure and recieve a winning. The bridge is a controversal topic, debations and fights are common among Jammers if spoken about. Animal Jam is abstrusive about Coral Canyons, but hints it is not going to break.
Art Room - A charisma of Peck the bunny Shaman is definitely the Art Room. Inside, you can: look at, color, and print several activities and games.
Shops
Coral Corner - At the far Northwestern area of Coral Canyons once resided , an outdoor furniture and pottery shop. For a period of time it was barren, but the Den Depot takes it's place.
Epic Wonders - It has a generous amount of strange and mysterious items that would change every now and then. The items are quite expensive, all costing atleast 1,000 gems.
Den Depot
- The Den Depot sells many themes of 
Dens
to. It is one of the newest shops in Coral Canyons.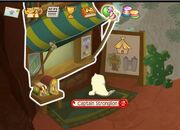 Den Shop

| | |
| --- | --- |
| Mushroom Hut | 5,000 Gems |
| Enchanted Hollow | 7,000 Gems |
| Fantasy Castle | 7,500 Gems |
| Lost Ruins | 3,500 Gems |
| Ol' Barn | 5,000 Gems |
| Sunken Ship | 2,500 Gems |
| Water Park | 4,000 Gems |
| Restaurant | 4,000 Gems |
| Volcano | 3,000 Gems |
| Princess Castle | 6,000 Gems |
| Castle | 6,000 Gems |
| Tree House | 4,000 Gems |
| Small House | 2,000 Gems |
Epic Wonders
Amethyst Birthstone
1,500 Gems
Birthstone Display
1,000 Gems
Diamond on Display
4,500 Gems
Cuckoo Clock
2,250 Gems
Dessert Table
2,000 Gems
Epic Seasonal Tree
2,250 Gems
Golden Throne
2,000 Gems
Phantom Throne
2,500 Gems
Crystal Table
1,000 Gems
Crystal Couch
1,500 Gems
Crystal Chair
1,250 Gems
Fancy Vanity
3,000 Gems
Pet Castle
2,500 Gems
Pet Princess Castle
2,500 Gems
Gold Brick
10,000 Gems
Silver Brick
5,000 Gems
Bronze Brick
2,500 Gems
Space Ship Command
5,000 Gems
Diamond Phantom
7,500 Gems
Cake Bake Kitchen
4,500 Gems
Red Sports Car
6,000 Gems
Ice Garden
3,500 Gems
Giant Trapped Phantom
3,500 Gems
Epic Wonders Orb
2,500 Gems
Crater With Meteorite
2,500 Gems
Ice Thrones
2,000 Gems
Princess Carriage
3,000 Gems
Shadow Garden
3,500 Gems
Feast Table
4,500 Gems
Black Giant Wolf Plushie
2,000 Gems
Dragonfly Wings
3,000 Gems
Zios Mask
3,000 Gems
Firefly Necklace
1,500 Gems
Cross Bow
2,250 Gems
Diamond Necklace
3,250 Gems
Golden Tiara
2,200 Gems
Golden Wings
3,000 Gems
Silver Glove
2,000 Gems
Golden Pirate Sword
2,500 Gems
Nunchucks
4,000 Gems
Diamond Earrings
3,000 Gems
Golden Bow And Arrows
4,500 Gems
Royal Tiara
3,500 Gems
Golden Glove
4,000 Gems
Golden Unicorn Horn
3,500 Gems
Diamond Ring
3,000 Gems
Designer Skirt
2,600 Gems
Dual Samurai Swords
2,200 Gems
Dj Headset
2,500 Gems
Games
Best Dressed - Dress up your avatar to match the theme, don't forget to change your physical features as well! Vote for the Jammer you believe is best dressed.
Long Shot - Launch the armadillo at a right timing to last a longer distance. The geysers and moles will add an additional mile to your score.
Sky High - On your keyboard use the arrow keys to direct your avatar on the clouds to reach to the top and obtain a treasure chest with bonus Gems. Once you hop on a cloud it immediately disappears, watch out for phantoms!
Sssssnake - The key is to eat as many mice as you can without biting your tail. Make sure to catch the golden mouse for bonus gems!
Taking Flight- Try to fly without getting hit by a cactus!
Journey Book
You may find these things for the Journey Book in Coral Canyons
Saguaro Cactus - This cactus can be found outside the bottom of the waterfall of Epic Wonders.
Tarantula - Will crawl on the small rock to the left of the bridge near the waterfall.
Scorpion - Will crawl out from under the lavender flowers to the left of the staircase infront of the are studio.
Woodchuck - You can find this on a rock just above the scorpion to the right, just a little farther up.
Cardinal - This bird will fly on a branch of the large treeto the right of the Den Shop in the South West.
Coyote - The coyote is very small and will be in the distance. Walk on the bridge to the right of the Den shop.
Peregrine Falcon - Will be flying in the distance. Just go to the Kitten Pet Finder and wait. Rumor says if you work together it will imediately come out.
Dandelion - Will be on the bridge beside the waterfall. Just go down a little ways and it will be on the left.
Gila Monster - Crawls on the rock to the left of the bridge near the waterfall, just above the one with the tarantula.
Rattlesnake - Will crawl out between two cacti between to the right of the Best Dressed game.
Honeybee - Can be found swarming around a hive above Best Dressed.
Myths
Jamaa Mysteries — Coral Canyons!
by AJHQ, under Jamaa Mysteries
We all know that Jamaa is a magical land that is filled with fun and mystery. We have heard rumors and reports that throughout Jamaa, special and amazing things happen when Jammers gather. Reports have just come in of a "rocking" good time Jammers have had on the stone bridge in Coral Canyons…
Hey there, Jammers!
It's super wild to hear from you! However, it sounds to us you've heard quite the wild rumor in Jamaa, is that right? If so, we're thrilled to hear you enjoy jumping on the bridge in Coral Canyons as much as we do! Have you noticed that it cracks when 3 or more Jammers jump on it? We know many Jammers and their friends have tried breaking this bridge for many seasons. Unfortunately, we haven't heard of any Jammers successfully breaking it yet, but can you imagine what would happen if you were the lucky Jammer to break it? We'd be careful though.... those cracks look pretty dangerous!.
Trivia
There is a rumor that long time ago Coral Canyons was underwater, since the name 'Coral' is a underwater plant. However in the BETA days the preview art of Coral Canyons didn't look underwater. 
Gallery