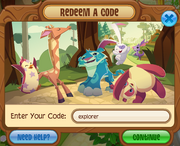 Codes are bonuses that reward the player with Gems or items. They can be found in the National Geographic Kids Magazine and Almanac/Infopedia, and are occasionally featured on the Daily Explorer. Other ways codes are distributed are from the Jam-A-Grams AJHQ sends on special occasions, such as holidays. Each code may only be used once, and both non-members and members alike are able to use codes.
Entering Codes
Most codes are case-insensitive, which means that they can be entered with uppercase letter or lowercase letters and the result will be the same. Players have three ways in which they may enter codes. The first way is by going to Animal Jam's home screen and selecting the box next to "I Have a Code to Enter!", thus enabling a text box where the player may enter their code in. However, the player cannot be logged in, as the box is only visible when the player log in is showing. The second way is by entering the code on Animal Jam's "redeem your code" page, where the player will then be taken to a page that confirms whether or not the code will be applied to the player's account. If the player is logged off, they will need to sign in again. The third method is to simply click on the "Enter Code" button located inside the My Settings menu while playing in-game.
Valid Codes
Gems
Click Expand to view
Code
NGKAJ18
500
AJBDAY7
777
ajtreasurechest
1,000
grahamsgreatest
500
secretelephant
500
greeleysfans
500
annual2play
900
ajplaycards
500
wildlunch
800
funnyfox
750
fuzzytiger
750
cheerycheetah
750
swiftdeer
750
livelylynx
750
playfulpanda
750
wiseowl
750
poshpig
750
slowsloth
750
sneakycougar
750
clevercoyote
750
fastfalcon
750
wileywolf
750
luckyllama
750
quickhorse
750
billygoat
750
touchytoucan
750
dashingdolphin
750
lovablelemur
750
loudlion
750
sillyseal
750
supersheep
750
curiousraccoon
750
cuddlykoala
750
happyhyena
750
jammerjoey
750
coolpolarbear
750
snowyleopard
750
Prizes
Expired Codes
Gems
Click Expand to view
Code
adorableotter
750
ajrocks
500
animals
1,000
arctic
500
bats
500
beano
1,000
beeparty
500
bemybuddy
1,000
bff4ever
100
birthday
500
campwild
1,000
celebrate
1,000
coralreef
1,000
croc
1,000
danceparty
1,000
deepsea
500
discovery
1,000
downyfriend
1000
drawing
100
explore
500
fashion
500
feast
1,000
festival
1,000
foodfight
1,000
friends
1,000
flying
500
fuzzyfriend
500
ganges
500
gifts
500
gorilla
1,000
hammock
1,000
happyfriend
1,000
jamaalidays
500
koala
500
llamas
500
mega
1,000
moviebytes
1,000
newyear15
500
newyearjam
1,000
ngk2015
1,000
NGKAJ17
500
ngkids
1,000
ngkidsrock
1,000
ngkjammin
1,000
nile
500
outback
500
party
500
pets
500
phantoms
500
playfree
1,000
playsmart
1,000
playwild
1,000
potion
1,000
ready2jam
750
roar
1,000
softfriend
800
speedy
1,000
spooky
1,000
tigris
500
time2jam
750
tojam
1,000
treasure
1,000
treat
100
trench
500
trivia
500
tropical
500
underwater
500
winter
500
zambezi
500
jamaafun2day
750
explorer
100
Prizes
Trivia
The ability to add codes in-game was introduced in an update on April 14, 2016.
When a Jazwares Adopt-A-Pet code is redeemed, an icon will appear for the toys that have been collected in the Adopt A Pet Checklist.
If the player enters too many codes incorrectly, a security captcha pop-up will appear to confirm that the user is not a robot.
If the player enters too many codes at once, a pop-up may appear telling the player that they cannot redeem any more codes at the time.
There used to be a glitch where a player would enter a code when their membership expired and be able to play as a non-member using a member animal. However, this glitch was patched.
If a code is expired and becomes available for use again, anyone who had previously entered the code before the expiration will be able to use the code again.
Gallery