| Type | Clothing |
| --- | --- |
| Common? | Yes |
| Beta? | Yes |
| Price? | Gift |
| Other Variants? | Yes |
| Non-member? | Yes |
| Rare Version? | Yes |
| Where | Gifts and Trades |
 The bow and arrows are one of the most commonly seen items in Jamaa; getting them is a completely different story. They first appeared as a gift over the 2011 Jamaalidays and have become rarer over the years. Since then, they have only reappeared during the 2012 Jamaalidays (on Christmas Eve, to be exact), though they had different coloration and are not labeled as "rare" by AJHQ or jammers.

Because of this, many Bow and Arrow holders get harassed continually by several different methods - a barrage of trade requests, recurring trade requests, even after a turn-down and the "follow the leader" strategy. A lot of scamming goes on with Bow and Arrows. For instance, withholders of this item may receive trade requests with a normal item, such as glasses or a striped couch, for your bow. Or people will use your bow in scamming efforts (oh, trade me rares for this flower! I decline, best rare wins! Person sends bow, they get nothing but a flower, and lost their item forever). And many times, since Bows and Arrows are quite rare, scammers WITH bows will do scamming contests by bribing with one. (Come to my den if you want bow, okay trade me rares for this flower if you want bow I decline promise, no scam!). Bow holders, along with Fox Hat holders,  should be careful of all the scamming.
The bow and arrows arrived in the Jamaalidays both flexible and bright; as seen below, there were a myriad of colors available. This included the original blue (on the side of the page), green, lime green, orange, pink, purple, copper, silver, and a white/gray medley. However there is one rarer type of bow. You could say rare rasperry bows, due to few jammers having seen these miscolored bows - they are a deep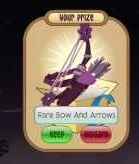 purpilish pink. The black and lime green bows have so far only been distributed for 2012, and the copper and silver only for 2011. The black, white/gray and blue bow and arrows tend to be most common, while the green and purple have never been glimpsed to most Jammers. There is a controversial topic on the brown bow and arrows but because the claims of seeing this unusual colored weapon describes a bow and arrows very similar to one of the orange bow and arrows, the speculations have been squashed. It is, however, likely that some arrows were discolored when first given as gifts on the Jamaalidays. Bows are often used by clan members, along with fox hats/raccoon hats; they are more commonly used than swords.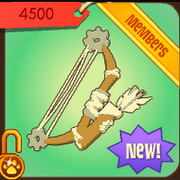 One more type of bow and arrows appeared on May 4, 2012 to the joy of many Jammers. However, to non-members, this joy was short-lived. The new golden bow and arrows costs 4500 gems, a hefty sum, and can only be bought and worn by members. Many Jammers, including members, shun the golden weapon because of it not being the authentic archery tool given out at the earlier date. The golden bows and arrows are located in the Epic Wonders shop in the Coral Canyons.
In December 24, 2012, new Bow and Arrows were released to the game. Starting in November, all of the bows from 2011's Jamaalidays were turned "rare" by AJHQ. Many people with "Rare" Bow and Arrows say their bow and arrow is way better than the new ones. Many Jammers report these as mean Jammers. The new colors are lime green and black. Silver and copper bows were not distributed in 2012, while the lime green and black were added. Many Jammers adore these new colors.
In 2013, when the adventures were released, many Jammers reported winning Rare Bows on Hard Mode of Return of the Phantoms. It has been confirmed you can win these on the first adventure when you do not lose many lives.
Gallery
Trivia