The Birthstones Collection is a set of members-only den items that were introduced at the beginning of 2013. The set consists of twelve gemstones that are sold seasonally (one for each month) and a hanging display shelf that is sold year-round at Epic Wonders.
Appearance
Birthstones vary in appearance. The particular gem of the month is inlaid in a gold-like metal. Each of the twelve birthstones (for twelve months) is unique. They also sparkle. They are all rather small.
Items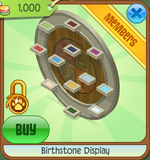 Display
The Birthstone Display is for members-only and it is sold during each month for 1,000 Gems.
Birthstones
Each birthstone is for members-only and costs 1,500 Gems.
Trivia
This set was first announced in Jamaa Journal Volume 78.
The stone of the month comes out on the first of that month and leaves at the end of the month.
Although it is not a birthstone, the Birthstone Display was released alongside the birthstones.
This set is similar to the Birth Flowers Collection.
Gallery