The
Arctic Hood
is a members-only land clothing item, originally released during the Beta Days. The Arctic hood can also be won in The Forgotten Desert Adventure.
Appearance
It is a hood with a fur trim. Attached to the hood is an eye piece with small spikes on the top. The very end of the hood ends in a curl.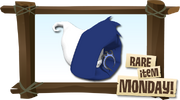 Status
Type?
Clothing Item
Has a Rare version been released?
Yes
Beta stage?
Yes (Regular)

No (Rare Item Monday)

Non-Member?
No
Price
250 Gems (Rare Version 740 Gems)
Are there other released variations of the item?
Yes (Rare Item Monday and various colors)
Sold where?
Trivia
There are actually nine colors rather than eight colors for this item. There are the common colors originally sold in the Shiveer Shoppe, but there was one color originally in the Beta, turquoise with a green ring around the Jammer's eye.
One of the colors is commonly mistaken for a beta hood. However, you can tell which is beta by looking at the hood color closely, which is more turquoise than the non-beta counterpart. Don't be fooled by others telling you that the hood they have is beta.
Gallery