The Arctic Hood is a clothing item on Animal Jam. It has a blue-green tint to it with a white brim. The Arctic Hood has a rare variant, which is a darker blue. Both are Members-only. The Arctic Hood also has its ups and downs. The Hood shown to the right has a green ring.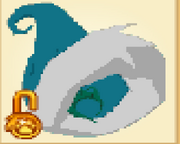 Type
Clothing
Rare version?
Yes. 
Beta stage?
Yes (Regular)

No (Rare Item Monday)

Available to All-Jammers?
No, this item is for members only.
Price
250 Gems (Rare Version 740 Gems).
Other variants?
Yes, there is a Rare Item Monday version and several other colors.
Where
Trivia
Sometimes assorted winter hoods and hats are substituted. Arctic Hoods are some of the most coveted items on Animal Jam. It is probably the least wanted winter hat, but a fairly wanted Beta.
There are actually nine colors rather than eight colors for this item. There are the common colors originally sold in the Shiveer Shoppe, but there was one color originally in the Beta, turquoise with a green ring around the Jammer's eye.
The current rarest item in the game is the beta arctic hood (the original color) the type that is not in the Forgotten Desert, it is also the rarest because many people have obtained founders, beards etc.
One of the colours is commonly mistaken for a beta hood. However, you can tell which is beta by looking at the hood colour closely, which is more turquoise than the non-beta counterpart. Don't be fooled by others telling you that the hood they have is beta.
Gallery